What's New?
---
---
Handmade PaperMaking Experience at HQ PaperMaker
Paper Making Class Launched
HQ PaperMaker offers your experience to make handmade paper at our factory. You can make basic handmade papers such as Rough Textured, Smooth Textured and Petal & Leaf embedded papers by your own design.
Papermaking Basic Course
Basic Course provides a learning to make handmade mulberry paper (Saa paper in Thai word) using our regular size deckled frame 56x78cm and white mulberry pulp.
Your produced paper will be available for you to pick-up at our Shop in the afternoon of the next day. When you travel to Chiang Mai, you will have great experience by making your own paper.
Two hours course starts from 10 am and ends 12 am, Monday through Friday. Cost is approx. US$30 per person including tranportation. If it is rainy, the class will be cancelled. Limited availability of maximum three persons/day. One day advanced booking. For more detail and booking, Contact Us
Bleow images are class attendant Peter, Mary and Alice from US.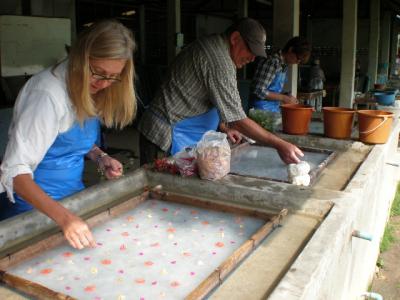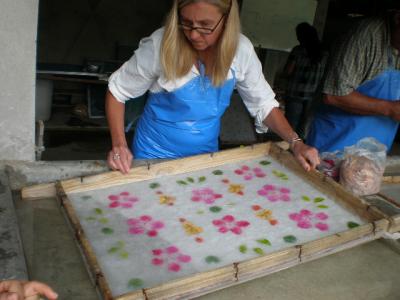 New Handmade Paper Lace
Wicker, Stellaria and Clematis added
You can enjoy Oriental pattern of Bamboo Wicker, Beautiful White flower Stellaria and Purple coloured Crematis patterns.